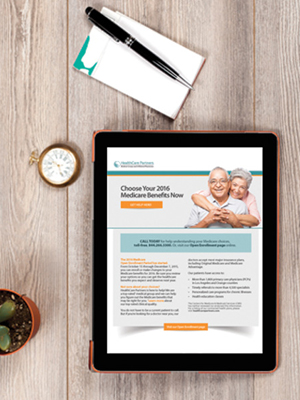 DaVita HealthCare Partners
Landing Page Design, Email Campaign
Target Audience
Medicare Eligible Seniors

The Challenge
To use email and a website to communicate key dates and information about Medicare Open Enrollment and DaVita HealthCare Partners to seniors who may not spend a lot of time on email and online.
The Solution
Created brief, clean and visually appealing formats for the email and landing page, updating the enrollment information in each email while keeping general Medicare and medical group information consistent throughout all emails.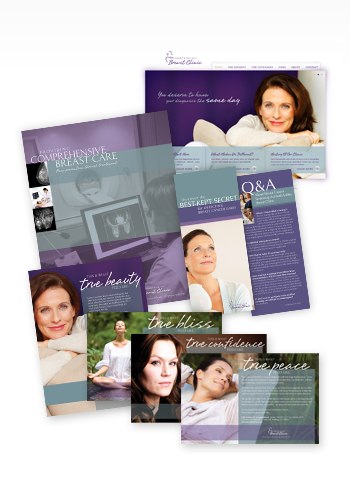 North Valley Breast Clinic
Website, Brochure, Q&A Insert, Ads
Target Audience
Women seeking mammography and related imaging services
The Challenge
To create a consistent style across a variety of print and online media that conveyed trust and comfort while emphasizing the Clinic's new high-tech imaging capabilities.
The Solution
Used rich, warm colors and subtle images of new imaging technology, while creating a sense of comfort and relaxation through more prominent images of confident women in natural settings.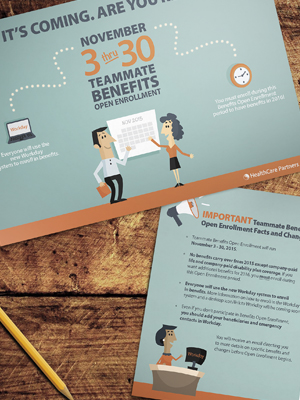 DaVita HealthCare Partners
Direct Mail
Target Audience
Employees of a large medical group
The Challenge
To draw busy employees' attention to key Benefits Open Enrollment deadlines and facts. To make the online enrollment process feel easy while complying with strict corporate brand standards.
The Solution
Developed a fresh, whimsical approach using retro, cartoon-like imagery to highlight key facts like enrollment deadlines and made the piece bold but brand-compliant through creative use of contrasting colors from the corporate color palette.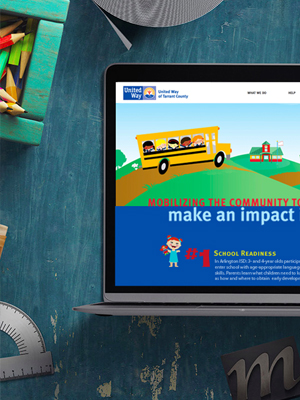 United Way
Poster, Email Campaign Mockup
Target Audience
Teachers and school administrators
The Challenge
To help keep United Way initiatives and their role in increasing on-time graduation top-of-mind for teachers and school administrators.

The Solution
Used bright, playful, school-related images that clearly and simply illustrated each of the United Way initiatives and translated well to both print and online media.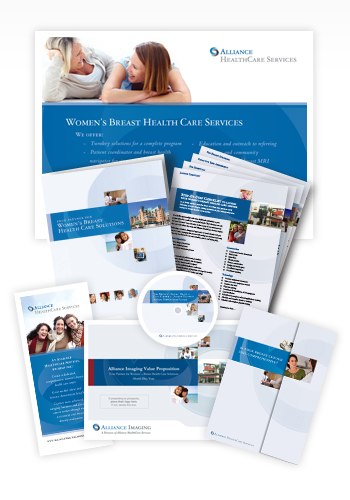 Alliance HealthCare Service
Brochures, Sell Sheets, Tradeshow Display and Banners, CD, PowerPoint
Target Audience
Hospital and clinic purchasing departments seeking women's imaging equipment
The Challenge
To create sales materials that could be clearly identified as related to women's health while still maintaining strict corporate identity standards and crisp branding in these business-to-business pieces.
The Solution
Complemented the Alliance brand's corporate look with simple but warm women's lifestyle imagery that worked with the clean, modern look of the pieces.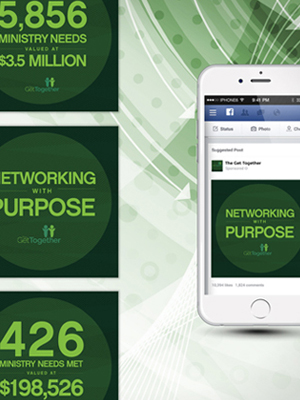 The Get Together
Social Media Campaign

Target Audience
Local businesses supporting The Get Together non-profits
The Challenge
To keep The Get Together, a non-profit agency connecting local businesses with select faith-based non-profits, top-of-mind with businesses that were providing support and to share the impact of The Get Together's work, while staying within a small budget.
The Solution
Launched a social media campaign across multiple platforms that used strong visual branding and simple infographics to highlight The Get Together's key accomplishments, while allowing room for warmer photos of the supported non-profits to increase the emotional impact of the campaign.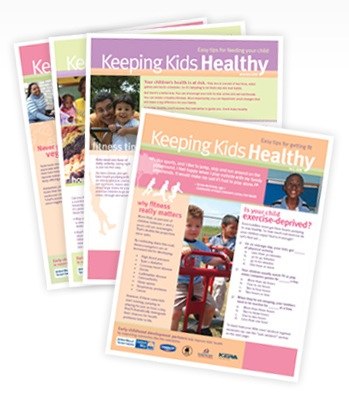 United Way
Newsletter
Target Audience
Low-income families with preschool-age children
The Challenge
To create a newsletter with key information about exercise, diet and other child-raising subjects that would appeal to parents of young children living in low-income areas who might not have regular access to a computer.
The Solution
Created seven "seasons" of a mailed newsletter using bright, appealing colors attractive to the United Way target market, along with fun, family-oriented photos to make the newsletter and its important topics more approachable.